Pluto (leader: General Dagi) is a planet of Sun. It is played by User:Mighty Erick at private mode.
Priorities
Edit
When you are writing at the thread, you must remember that General Dagi priorities are:
1. Control of the Solar System
2. Control of the External planets
3. Control of the Galaxy
and he will do anything to get that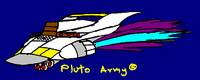 Technology
Edit
Ad blocker interference detected!
Wikia is a free-to-use site that makes money from advertising. We have a modified experience for viewers using ad blockers

Wikia is not accessible if you've made further modifications. Remove the custom ad blocker rule(s) and the page will load as expected.